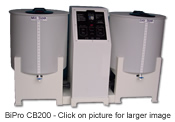 Dedicated dialysis professionals want to focus on patient care. That's why dialysis facilities have relied on BiPro Systems ™ for more than ten years. Medical Solutions International is the originator and leader in sanitary concentrate mixing and distribution systems.
BiPro Systems revolutionized the way bicarbonate and acidified concentrates are delivered to patient dialysis stations. The systems save you lost staff time by eliminating the mixing and cleaning associated with jugs. No more container filling. No more spilling, mislabeling or hauling. But more importantly, BiPro Systems reduce the potential of costly back injuries from handling heavy jugs.
BiPro systems offer a consistent solution delivered to all dialysis stations without interruptions. A system with enhanced quality controls, sanitation and equipment maintenance.
BiPro Systems uses only FDA registered materials and makes sanitation of all systems a top priority. In fact, Medical Solutions International pioneered the use of ozone for faster, more effective disinfection. We also offer custom recessed wall stations called Wall Tech™ to dispense bicarb and multiple acidified solutions, as well as RO/DI water.
And you'll be glad to know, support doesn't stop with installation. Training manuals, procedure development and system validation are also delivered along with BiPro quality. You won't find a safer, more convenient or cost-effective way to improve clinical efficiency.
Concentrate Mixing System Features
Automatically and effectively reconstitutes bicarbonate and acidified powders in a closed system.
Managed fill system ensures predictable & reproducible batch quality
25 to 100 gallon capacity
Electronic fill & dispense options
Variable batch size
Internal balanced agitation
Optional ozone sanitation and disinfecting
2 micron air filter
Timed cycle processing
Concentrate Distribution System Features
Designed for low volume, low pressure dynamic distribution of mixed bicarb concentrate to patient stations
Includes bicarbonate mixing system and distribution controls
Features simple, complete sanitation and effective rapid rinse
BiPro MM1P, MM5P, MM3P
This 100 gallon (MM1P) mixing tank employs jet flow injection for rapid mixing at the touch of a button. We use a mixing pump with the potential of 53 gallons per minute unrestricted flow to our turbulence multiplying jet to ensure the concentration is mixed instantly. Electronic fill controls are available to prevent unattended over filling.
50 and 70 gallon tanks are also available.