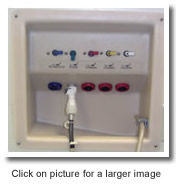 Today's productivity-driven healthcare professionals appreciate the features of Wall Tech™ – a patented recessed dialysis wall station that offers new freedom. Used to dispense bicarbonated and multiple acidified solutions, as well as RO/DI water, Wall Tech is the culmination of years of research and testing. Medical Solutions International, the company who pioneered industry standards for bicarbonate mixing and distribution systems such as the BiPro Systems™, developed the innovative design.
Wall Tech was created with user-friendly features for time-constrained dialysis staff. Each recessed dialysis wall station includes a solutions distributions center and drain. Each can be fitted with a variety of valves and adapters to accommodate the installation of comparible dispensing with any dialysis delivery machine on the market today. Each unit features color-coded valving and dispensing which also is signage-designate.
Designed With Maintenance In Mind
Best of all, the unit is as easy to clean as it is to operate and install. The durable plastic unit is constructed from high quality molded polyethylene, and improvement on stainless steel. Chemical resistant, Wall Tech is impervious to corrosive damage from the dialysis machine. With its solutions distribution center is a cantilever-style drip panel to keep it free of spills and stains. A benefit of the recessed design is the protection of valve handles and hose connections from accidental damage.
Wall Tech Stations come in both Beige and Gray. The following PDF files show various combinations of Wall Tech Stations in both Beige and Gray.
Specifications Overview
Accommodates compatible rinse ports from any dialysis delivery system with installation of valves, fittings, pressure gauges and quick connects
Wall-mounted system requires 15″ square opening
Easily retrofits in existing facilities
Size: 17 1/2″ x 17 1/2″ x 6″
Beige Wall Tech Stations Options

Gray Wall Tech Stations Options